SALT LAKE CITY, January 17, 2023 – AMTAC, one of the most respected firearm suppressor manufacturers in the world, today announced a new brand identity that reflects the innovation and strength of its products and tunes into one's "Inner Warrior." AMTAC's new look and feel is inspired by Polynesian symbology and traditions. The company is also announcing a new over-barrel CQC rifle suppressor, which is ideal for law enforcement and hunting.
"There is wonderful and powerful symbolism that runs throughout Polynesia," said Brady MacKay, COO of USDGI, parent company of AMTAC. "Many of us here have deep connections to that area of the world and we wanted to shine light on and honor this history and tradition. Not only do the tribal-inspired designs work beautifully with our product lines, but the names are easy to pronounce and remember and the concepts behind them align with our mission to deliver the highest quality safety equipment on the market today. For example, our 9MM pistol caliber carbine suppressor is named Ku, after the Hawaiian god of war, but that term also means 'stability,' which speaks to the solid design, performance and balance inherent to our entire line of suppressors."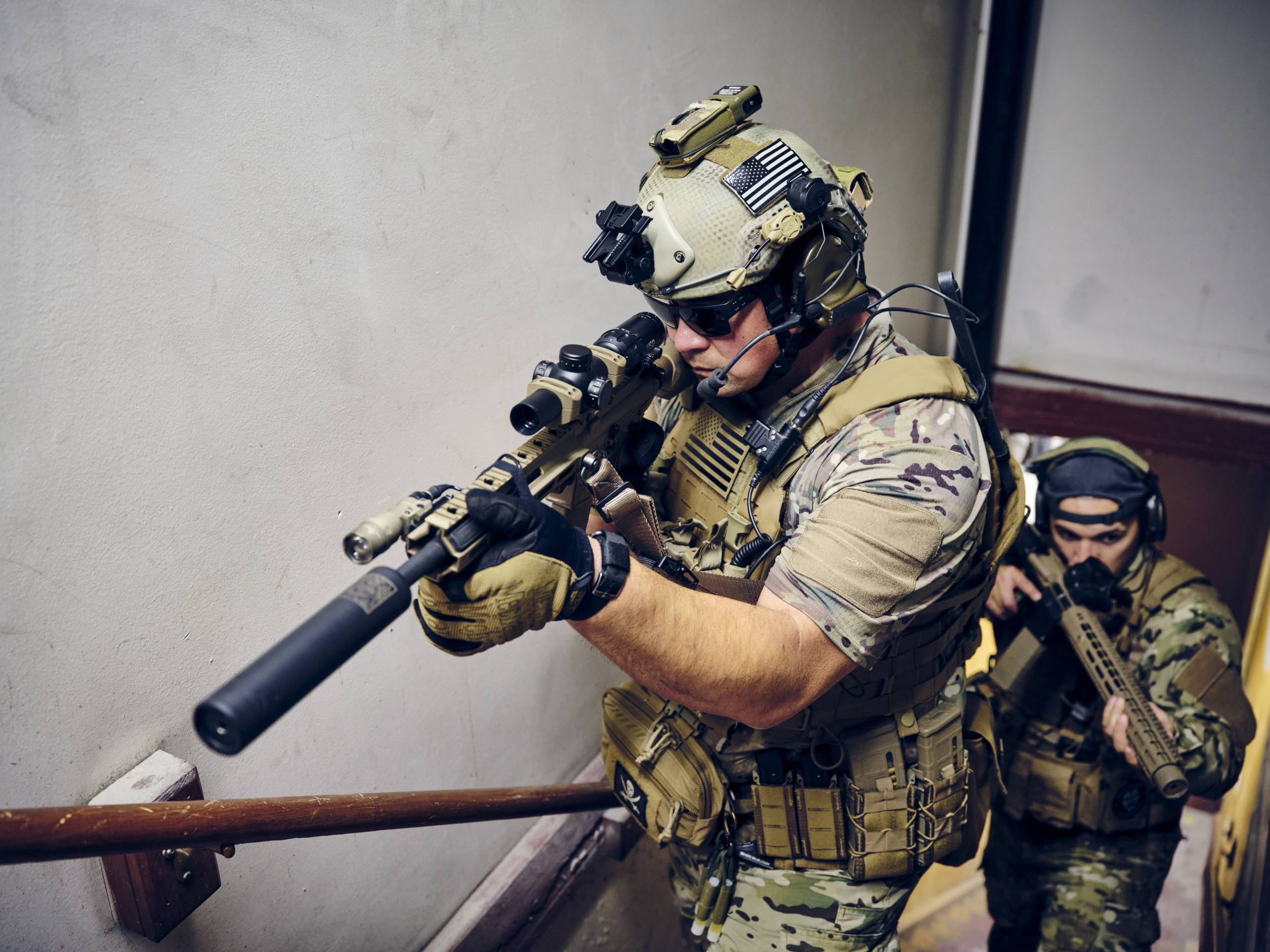 AMTAC, one of the most respected firearm suppressor manufacturers in the world, today announced a new brand identity that highlights the innovation and strength of its products.
The AMTAC product lines are as follows:
KAHA 300 BLACK OUT SUPPRESSORS: Meaning "strong" or "great."
AMTAC is proud to introduce this new state-of-the-art suppressor. The KAHA CQC suppressor offers the ideal balance between length, weight, and sound performance. With this suppressor, the added overall length is only 3.7 inches, which delivers better balance and makes it possible to store in police cruisers and be much easier to wield while hunting. KAHA is rated for magnum calibers and designed for 300 Blackout rifles. Noise reduction: up to 28dB.
TAO .22LR RIMFIRE SUPPRESSOR: Meaning "spear."
The TAO suppressor is a premium rimfire suppressor capable of handling multiple calibers. It is impressive with .22LR but can also be used up to 5.7×28 on a 16″ barrel. Noise reduction: up to 37dB.
KU 9MM PISTOL CALIBER CARBINE SUPPRESSOR: Meaning "god of war" and "stability."
Designed specifically for Pistol Caliber Carbines, the KU features a unique over-barrel design that adds only 3.7" to the carbine's length while drastically reducing both sound and recoil. It fits under most handguards for an integrated look and balanced feel. Noise reduction: Up to 30dB.
KOA 5.56 NATO SUPPRESSOR: Meaning "warrior" or "brave one."
AMTAC's flagship over-barrel suppressor, the KOA is designed around a 16" barrel with a carbine-length gas system. The shortest version adds only 3.7" to a rifle's overall length. The KOA series is available in three variations, KOA CQC, over-barrel; KOA E, end mount; and KOA S (Sporting) over-barrel. Noise reduction: Up to 28dB.
RONGO .30 CAL: Meaning "peace (after war)."
Rated for magnum calibers, the RONGO series suppressors deliver versatility. For larger barrels, the RONGO precision will accommodate up to 0.95" in diameter. Available in End-Mount (RONGO-E) and Over-Barrel (RONGO-S, RONGO-P) versions. Noise reduction: (S and E) up to 28dB, (P) up to 26dB.
TAIAHA 6.5 PRECISION SUPPRESSOR: Meaning "traditional long spear, shows authority."
TAIAHA suppressor provides the ideal balance between length, weight and sound performance. The single-piece CNC-machined baffle structure threads directly to a rifle's barrel, which delivers uncompromising accuracy at long ranges and adds durability for shooters who practice regularly. Noise reduction: up to 28dB.
About AMTAC Suppressors
AMTAC is a division of USDGI and is headquartered in Salt Lake City, Utah, which is focused on making a positive global impact by providing mission-specific resources, leading technology, equipment and practical and tactical training to those who are first on scene, in combat or gathering intelligence. These resources, products and services result in safeguarding lives, enabling justice and improving communities. AMTAC has built mission-critical components for aerospace, medical, and defense industries for over 35 years. At AMTAC, we approach suppressor design the same way we approached projects for the Department of Defense. We look at things from a higher level—leaving behind preconceptions of how things are usually done, born of habit and convention. Instead, we figure out how things can be done to give you a better tool for the job. It's this unique approach that led to our Quick Thread over-barrel design, our single-piece baffle structure and the other innovative projects currently in the research-and-development process. For more, please visit https://amtacsuppressors.com/.